18 Cadence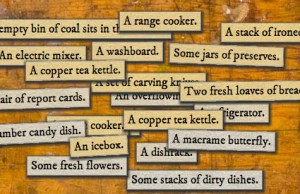 18 Cadence is a storymaking platform that lets its readers explore the history of a house through the hundred years of the twentieth century. Moving through space and time, a reader encounters hundreds of events, characters, and objects. Each piece is not static text but a movable, dynamic fragment that can be repositioned, merged, expanded, or reconsidered. Like magnetic fridge poetry for narrative, 18 Cadence lets its readers manipulate the pieces of a story with their fingers, and invites them to assemble their own history from the raw material of a century of living.
18 Cadence was selected by Kirkus Reviews as a Best Book App of 2013, and received an Honorable Mention in the Nuovo category at the 2014 IGF Awards. It also received an Honorable Mention for the 2014 Robert Coover Award for a Work of Electronic Literature.
18 Cadence is available on the web. It was originally also available on iPad, but in 2016 Apple decided to remove all apps from their store that weren't being continually updated.